---
Wednesday Morning Bible Study Discipleship
Wednesdays, August 10, 2022 - May 10, 2023, 10AM
Location: LC 106
Join us each week as we take an in-depth look at the Tabernacle. It is God's desire to dwell with his people. We see this from Genesis to Revelation. We will see how the Tabernacle points us to the fulfillment of God's Promise through Jesus, our Redeemer.
---
Equip
Wednesdays, August 17, 2022 - May 10, 2023, 6:30PM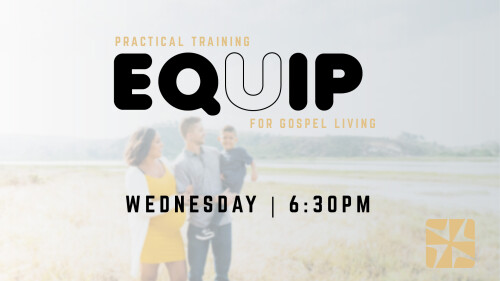 Our Equip strategy exists to give you the tools you need to display the gospel intentionally every day as a disciple of Jesus!

Equip Classes occur on a semester basis on Wednesday Nights at 6:30pm. Round 1 begins on August 17th and ends on September 14th (5 weeks). We have three classes to choose from:
The Art of Neighboring
Spiritual Gifts: Serving the Body of Christ
You are Sent: The Marks of a Sent One
---
Mom's Collective
Thursdays, August 11, 2022 - May 18, 2023 | 9:30am - 11:30am
Location: 2nd & 4th Thursdays: Church Front Lobby Meeting Room
1st & 3rd Thursdays: Off Campus
Mom's Collective is a community group for moms of all ages. We meet on campus the 2nd and 4th Thursday. Childcare is available (ages 6wks-4yrs). Join us on the 1st and 3rd Thursday of each month as we meet off campus for group activities with children.

For More Information, visit:
Tammy Durrence - Women's Discipleship Director
770-733-2379