COVID-19 (Coronavirus) has demanded a massive change in our community and across the world. One thing that hasn't changed? The Church. Let's not waste the pandemic—let's allow God to use us to encourage others in the Gospel!
Remember we don't go to church—we are the Church. So let's be the Church. If you see a need, meet the need if you are able.
We've compiled several opportunities to serve in our community in the midst of this present pandemic. Check out the different opportunities below and help out where you can! Remember to follow the safety guidelines for COVID-19 and be sensitive to the needs of those around you.
---
Hello, Neighbor!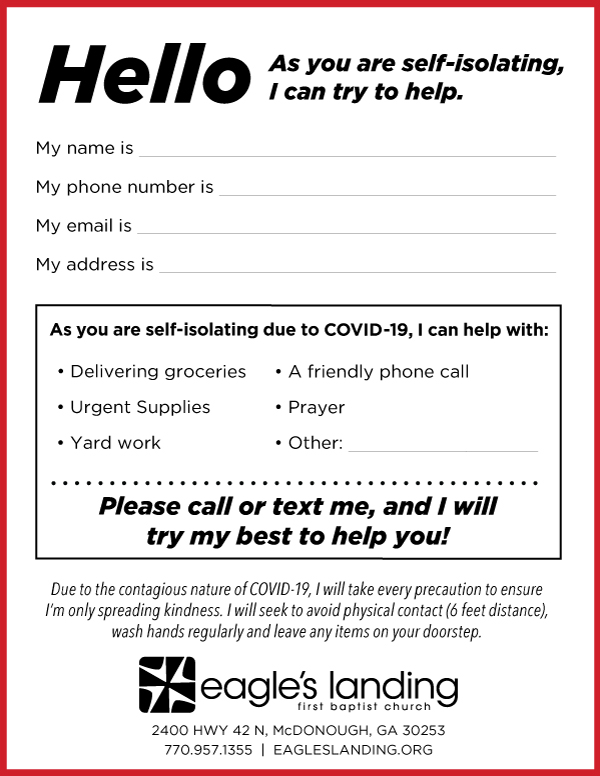 Download & Print your Serve Cards! (PDF)
We've attached a simple card that you can print, cut, and fill-out! Then take the cards to your neighbors who may be self-isolating to see if you could help them in any way!
---
School has started! Show the Love of Christ to Students and Educators!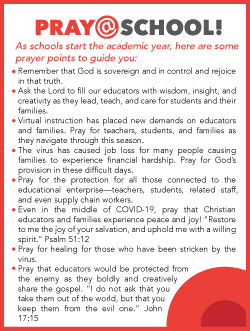 Download & Print your Prayer Cards! (PDF)
Educators are under pressure like never before! Let them know you care.
Let's pray for our educators and schools! Here is prayer guide for you. Print it and take with you to a school close to you—pray onsite with insight!



Here are some great ways to share the light of the Gospel:
Send the principal of your student's school an encouraging note or email. Let them know you are praying for them.
Find out your neighborhood school here.
Serve! Offer to help the school by cleaning, organizing, bringing lunch to teachers and administrators.
Take donuts and coffee by the school. Stay and serve them!
Collect supplies for students. Sanitize all items. In fact, donate Personal protection equipment and supplies like hand sanitizer. Let the school counselor know that you are ready to help students at risk.
Supply some backpacks for students. Even though they won't be on campus initially, students would still love a fresh backpack!
Offer to help at an Open House.
Get creative and follow the Holy Spirit's lead!
---
Care Package for Delivery Workers
Expecting a delivery from UPS, Amazon, FedEx, or USPS? Show the delivery worker that you appreciate them by leaving a care package!
Here are some ideas from Pinterest!
Check out the story of a FedEx driver who was blessed by a customer.
Tips:
Leave drinks and any items that might melt in a cooler packed with ice.
Sanitize the items and containers daily.
Offer a cup of coffee with a gift card from your favorite coffee shop.
Write a small note of encouragement to the driver when you know you'll be receiving a package. In fact, write a prayer down for them.
Include an invitation to join you at Eagle's Landing on campus or online!
---
Use Social Media to Demonstrate the Love of Christ
But how?
The social media world is awesome—sometimes. At other times, it can be pretty, well, nasty. Think through how you post and respond to the posts of others. Consider these questions or thoughts before clicking that "POST" button:
Have I prayed today and asked God to use me in any and every way for His glory?
Is there a truth from God's Word that I can share?
Does my post or comment encourage or discourage?
Are you being unifying or divisive?
Can you offer to serve those around you in any way?
Is there a way to encourage others to serve? Keep reading for ideas!
Will your comment, post, or picture cause someone to "write-off" your readers to the things of God or cause them to consider His goodness?
For more thoughtful advice, check out:
3 Ways to Harness Social Media to the Glory of God
Using Social Media for Ministry
---
Host a Worship Service Watch Party!
It's Sunday morning and it's almost 11am! Time for worship at Eagle's Landing—and your still in your pajamas! Yikes! No worries! Just go to eagleslanding.org and click on the Live Stream or go to Eagle's Landing First Baptist Church on Facebook and watch live.
Here's the obvious and easy big idea: invite your friends and family to join you by sharing the link! We all have friends and family members who are far from God--outside the church. Pray for them now and invite them to join you.
---
LifeSouth Blood Drives
Fall sign up info coming soon.
---
Operation Lunchbox
Volunteers needed! Eagle's Landing is partnering with Henry County Schools and Operation Lunchbox to help feed hungry school kids! Operation Lunchbox provides nourishment for the weekend. You can volunteer to help prepare packets of food and even deliver them to families. Check out Operation Lunchbox here and here!
---
Helping in His Name Food Pantry
Serves the Henry County community with nutritional needs.
Volunteer Needs:
Receiving and sorting food supplies
Preparing food boxes
Miscellaneous work around the facility
Find out more information here!
Volunteers can go directly to the facility located at 85 Bellamy Place, Stockbridge GA 30281. Call 678-565-6135 to let them know you're coming.
---
Serving Seniors in our Community
Whether you are a senior citizen in need or looking to help out a senior adult in our community, let us know here.
---
How are you serving during COVID-19? Share your story below!