Jesus can rescue you! It is possible to know God and know you have a relationship with Him!
Here's how:
Step 1
Separation from God
Have you ever thought about your relationship to God? Naturally we want that picture to look good. The problem is SIN separates each of us from God like a brick wall.
The Bible teaches us, "For all have sinned and fall short of the glory of God." Romans 3:23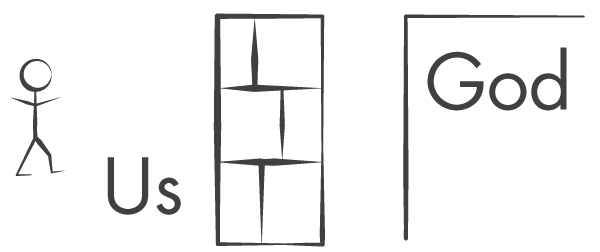 ---
Step 2
Climbing the Stairway to Heaven Gets Us Nowhere
Many of us try to deal with sin on our own. We think, "Maybe I can do enough good things to outweigh the bad and work my way to God." In essence we try to build a stairway to heaven with good things.
Again, God's Word teaches "For by grace you have been saved through faith. And this is not your own doing; it is the gift of God, not a result of works, so that no one may boast." Ephesians 2:8–9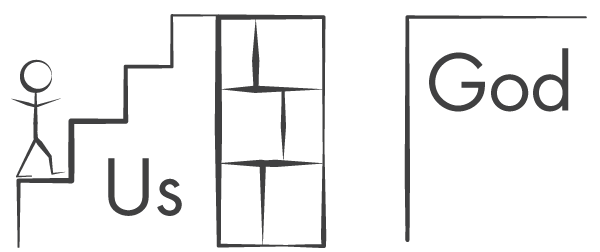 ---
Step 3
Here's the Picture
We are all sinners, sin separates us from God and the payment for sin is death. That makes the gap from where we are and where God is impossible to cross on our own.
The Bible teaches us in Romans 6:23, "For the wages of sin is death, but the free gift of God is eternal life in Christ Jesus our Lord."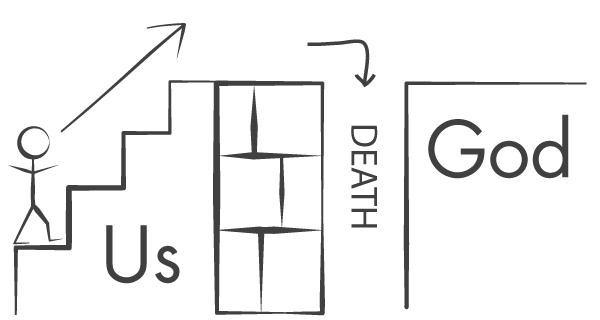 ---
Step 4
The Cross of Jesus Bridges the Gap
What we need is a bridge. Jesus is that bridge. The penalty for our sin was paid when Jesus died on the cross. Through Jesus our sin is paid for, forgiveness is provided, and eternal life is a gift. He rose from the dead so that we might live with Him.
Jesus said in John 5:24, "Truly, truly, I say to you, whoever hears my word and believes him who sent me has eternal life. He does not come into judgment, but has passed from death to life."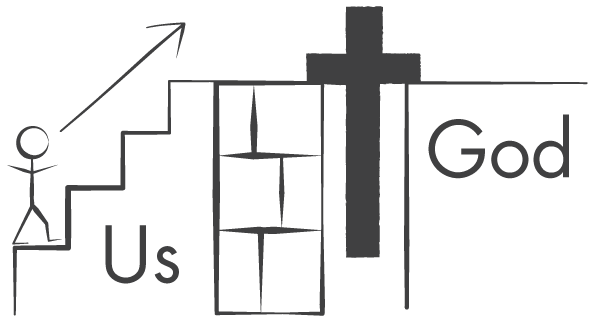 ---
Step 5
Have You Walked Across the Bridge?
Here's how:
Come to grips with your spiritual need.
Admit it - you are a sinner. Make a spiritual u-turn! The Bible calls this repentance.
Believe with your heart that Jesus died for you in order to bring you life.
Accept God's offer of salvation and receive His gift of eternal life!
Pray a prayer like this:
I admit that I am a sinner. I believe that you died on the cross for me, to save me. You did what I could not do for myself. I come to you now and trust you to forgive my sin and give me eternal life as a free gift. I give my life to you.
"And this is the testimony, that God gave us eternal life, and this life is in his Son. Whoever has the Son has life; whoever does not have the Son of God does not have life." 1 John 5:11-12
Did you just trust Jesus?
Please let us know so we can help you grow in your new relationship with God!