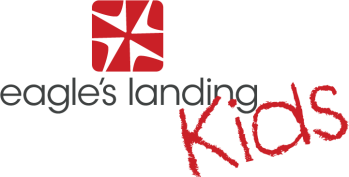 Eagle's Landing Kids Praise Songs
Spotify Itunes
Articles for Parents
Talking to your Children about Salvation and Baptism Read>>
Choosing the Right Bible for Your Child Read>>
Prayer: Verses to Pray Over Your Daughter and/or Son
10 Day Parenting Devotional by James Dobson Read>>
The Self-Controlled Child by James Dobson Read>>
Faith and Family: Glorifying God by making disciples. A blog by Zach McNeill Read>>
Help us Rest in the Work of Jesus by Justin Whitmill Early Read>>
Inspirational Quote
"Healthy families have healthy rhythms. No single event makes the impact, but the cumulative effect of rhythms over time." - Justin Whitmill Early Website
Books for Parents
Sacred Parenting: How Raising Children Shapes Our Souls by Gary L. Thomas More Info>>
Give Them Grace: Dazzling Your Kids with the Love of Jesus by Fitzpatrick & Thompson More Info>>
Why Christian Kids Rebel by Tim Kimmel More Info>>
Things I Wish I'd Known Before My Child Became a Teenager by Gary Chapman More Info>>
Books for Your Kids
What is a Christian? More Info>>
I'm a Christian Now! (for Younger Kids) More Info>>
I'm a Christian Now! (for Older Kids) More Info>>
So Your A Christian Devotional for Boys or for Girls
Jesus Storybook Bible by Lloyd-Jones/ZonderKidz More Info>>
The Story for Children by Lucado, Frazee, Hill/ZonderKidz More Info>>
The Story for Kids by ZonderKidz More Info>>
Unseen: The Prince Warriors by Priscilla Shirer More Info>>
The Action Bible More Info>>
Videos
RightNow Media
Search on YouTube for SuperBook, Veggie Tales, or Stories of the Bible
How do you do Family Worship? Quick 6 min video just for you on Family Worship
Family Activities
Mealtime Faith-Based Questions Download>>
Kindness Jar Download>>
Old Testament Bible Lesson: Jonah
Videos: Jonah 1:1-3 and Jonah 1:4-17
Family Discussion & Activity Guide: Kid's Jonah & the Whale Download>>
Outreach Opportunities
Kid's First Responder Coloring Sheet Download>>
---
S.O.A.P.
Bible Study Method
S - Scripture
God's Word is 100% true. It will never lead you wrong. All Scripture is inspired by God and is useful to teach us what is true and to make us realize what is wrong in our lives. It corrects us when we are wrong and teaches us to do what is right. 2 Timothy 3:16
READ the Bible, think about the Scripture.
WRITE down in your journal any key words, phrases, thoughts.
O - Observation
Give the Lord a chance to show you how good He is. Great blessings belong to those who depend on Him! Psalm 34:8
Ask yourself watch stands out to you after you read the scripture.
Who is the author? What is the purpose of the Scripture?
Write down in your journal what you observe in order to remember it.
A - Application
Listen to God's counsel, and apply it to yourself. True wisdom and power are found in God; counsel and understanding are His. Job 12:13
What promises, commands, or encouragement can you apply to your life?
How can your life change for the better because of the truth you read?
What can you put into action from the Scripture you read and thought about?
P - Prayer
Don't worry about anything; instead, pray about everything. Tell God what you need, and thank Him for all He has done. Philippians 4:6.
Pray: Adore God. Confess your sins. Thank your Heavenly Father. Ask Him your requests.
Ask God to give you wisdom as you journal God's Word.
Write down any prayers in your journal God puts on your heart and mind.
---
A.C.T.S.
A.C.T.S. is a prayer model our church is using to learn more about prayer.
​Here is our kid friendly version:
A - Awesome God: Praise God for how amazing He is
C - Confess our sins to God
T - Thank God for forgiving us and all he does for us
S - Supply: Ask God to supply our needs
5th Sunday Family Worship
On 5th Sundays during the year, elementary kids will join in with all the students and adults in the main worship gathering.
Kids will be greeting at the doors, too, learning to serve!
You may ask, "Why Worship Together as a Family?"
Jesus always welcomed children and encouraged those around Him to include them (Mark 10:13-16).
​
Here are just three of many reasons why family worship is so valuable:
Leads by Example – It is impactful for your kids to see you–as their parents–worship the Lord and to realize they are part of the overall church family. The stats for kids who fall away from their faith after leaving the house are discouraging, and so, showing kids how worship is important influences their hearts in the foundation of their lives. Much of our faith is as much caught as taught.


Binds the Family Together – In our fast-moving society, there are few things that a family does together daily. Even eating a meal together these days seems like a feat. Worshipping God together creates an eternal bond that strengthens the family at its core and overflows in all your daily endeavors.
​
Grows Family Discipleship – Being with you in worship generates gospel conversations between you and your kids. There's nothing like experiencing God together and having common spiritual things to talk about as a family. Kids are naturally curious, and who better to ask questions to than you as their greatest influencer!
Jesus said, "Let the little children come to Me, and do not hinder them, for the kingdom of heaven belongs to such as these." ~Matthew 19:14
Tips:
Sunday morning worship begins on Saturday night. Have plans ready for breakfast and clothes.
Pray on the way to church in the car so your kids see your dependence on the Lord. Ask your kids to pray, too.
Fully engage in corporate worship. Sing. Read. Listen. Take notes. You are modeling.
Feel free to quietly explain parts of the service to your children.
Sit toward the front so they can easily see everything.
Take them to the bathroom before the service.
Try not to get up during the service since this distracts others. Often they get antsy and do not actually need to use the restroom, especially if they went before the service begins.
Ask questions about the service on the way home.
Re-inforce the Scripture passage shared in the sermon at home at dinner or bedtime that night by having them read it. Reading the Bible together is life changing!
Bring a pen and grab a children's sermon note and June family prayer guide on your way into the auditorium. Take notes together.
Pray that God uses the corporate worship service to grab your child's affections for Jesus.
Persevere! It is not easy, but nothing worth doing is. Your kids are a priceless gift, and the battle for their hearts is real. Helping them realize they are a part of the church family imprints their hearts.
Go to Main Kids' Discipleship Page