Preschool LifeGroups explores the Bibilcal truth that "Children are a blessing from God." Children have more learning and development take place during the preschool years than any other time in their lives.
---
What will they learn?
We teach from Lifeway Bible Curriculum to support 8 Biblical concepts: God, Jesus, Bible, Creation, Family, Self, Church, and Community/World. Preschoolers learn from: play, friendship, and repetition!
Our goal is to provide: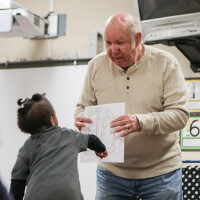 A clean, safe environment
A security system and an emergency plan
Teachers who are screened, trained, and love children
A happy environment for children to learn about the Bible and God's love
First Time Guest? Learn More
---
How does it work?
Nursery: 6 weeks - 24 Month
Even our babies learn through music and caring adults who share God's love with them and enjoy buggy rides.
These children hear Bible stories, play games, have playground time, enjoy music and singing.
4 years old - Kindergarten
Our older Preschoolers have the opportunity to enjoy music, playground time, Bible Stories and Bible verses, snack time, and games as they learn Bible truths.
Parents partner with us in our classrooms to meet our goal of providing a safe, caring and loving atmosphere for our preschoolers by serving once a month in the ministry. All Preschool parents must remain on campus while your child is in our care. Learn more about "How it works".