Your contributions help Eagle's Landing minister to thousands of people in Georgia and all around the world. Each time you give you help share God's love with those around you!
There are four ways to give here at Eagle's Landing. Click on the links below for additional information.
---
Secure Giving Online
Check out this video for an overview of the online giving process, and then read the rest of the article for more information.
Give through the Church Center app
If you give via the mobile app, you'll need to log in to Church Center, then tap the Give button to access the donation form.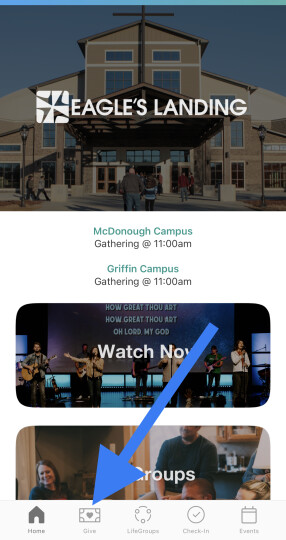 Church Center automatically creates a donor profile for you after you donate to your church the first time. This gives you access to manage your personal information.
1. Enter Donation Information
2. Choose your Payment Method
After entering your donation information, add a payment method for your donation.
You can choose from previously saved payment methods by logging in to Church Center.
If you are not using a saved payment method for your donation, you can add a new bank account (US only) or add a debit/credit card. If you're using Safari on Mac or iOS, you will also have the option to donate using Apple Pay.
Also you have the option to cover the processing fee.
Give with Bank Account (US Only)
Giving with a bank account (EFT) is not currently supported for Canada.
US donors can verify and save their bank account to use when donating. When you give with a bank account, the processing fees are lower than when you give with a credit card. However, the funds will take 4 business days to get to your church.
When giving with a bank account for the first time, you will have to verify that you own the bank account. Your account will be saved to your donor profile so that you won't have to verify account ownership every time you give.
Select Add bank account, and then choose instant or manual, depending on how you want to verify your bank account.
Instant verification will allow you to donate that same day. Accounts with most major banks can be verified instantly.

Manual verification uses micro-deposits to verify your account and might take a few days to complete. You'll need to use manual verification if you can't find your bank when you search for it using the instant verification process.
With micro-deposit verification, the bank deposits a couple of small amounts into your account. Depending on the type of micro-deposit verification, you might need to manually verify your account in the same day you initiate the verification. You will need log in to verify each of the amounts deposited to your bank to complete the verification.
Once your bank account is verified, you can donate using that payment method.
Give with Debit/Credit Card
You can give using most major debit/credit cards, though your church has the option to disable credit card giving. If credit cards are disabled, you can still give using a debit or pre-paid card.
While all major credit cards are supported for Canadian organizations, only a limited number of debit cards will work. Visa Debit is supported, but Interac ATM cards or any card without a 3 or 4 digit CVC code will not.
Enter your card number, expiration date, CVC code, and zip code.
If you are giving using Church Center web, you'll have the option to save your card to your donor profile. In Church Center app, your card information will be automatically saved.
Optionally choose to cover the processing fee, and then select Give now.
You can use Apple devices (Safari on iPhones, iPads, and Mac) to donate using your credit or debit card without having to enter the full details of your card. It will appear at the bottom of your donation form, as shown in this example:
---
PayPal Secure Online Giving
You can bring your tithes and offerings to our church office Monday-Thursday 9am-4pm.
There is a dropbox located on each campus for after hours.
- McDonough Dropbox is located on the wall of the LifeCenter nearest the doors to the old coffee shop area. It is accessible from the courtyard.
- Griffin Dropbox is located in the wooden door under the drive-through covering.
Place your tithes and offerings in the offering plate during normally scheduled worship services.
---
How do we keep your information safe?
Read about how we handle your confidential information.
---
* If you have any questions, please contact our Finance department - | 678.818.1076.
** If you are using SimpleChurch Giving and you have the recurring option setup, please turn off the recurring gift at the SimpleChurch Giving site.